Testimonials
Erica's features a distinctive line of premium quality, freshly prepared bakery products that are unparalleled. Inspired by her great aunt's recipes, Erica's all natural, sweet buttery pastry treats have been praised by journalists and cookie lovers across the nation. Baked by the best in Brooklyn!

---
"I recently received a gift box of your cookies from my friend's Lisa & Stu.

Your cookies are AMAZING! I have eaten many rugelach (including my grandmothers) and macaroons in my life but yours are "WOW!!", the best I have ever eaten. Your chocolate (brownie) cookie with nuts is delicious, delicious, delicious!

I actually picked every crumb from the tin because they are that good. Just felt compelled to give my compliments to the chef!!"
– Susan Miller, New York City
---
"For the season of the heart."
– Florence Fabricant, Food Notes, NYTimes "The Living Section" View article
"Wonderful rugelach. A surprise for my Valentine please. Breakfast in bed will start the day with a glow."
– Ask Gael Greene, from New York Magazine's, "The Hot Line" View article
"Shifting north, when it's cold in New York, Erica's Rugelach is always hot. In fact, Erica's bakery is hot all year round, baking an assortment of fresh cookies and pastries with all fresh, natural ingredients."
– Suzanne Brown, from Tea & Coffee, "Making Cookie Dough" View article
"Rich & buttery rugelach, tasty hamantaschen & fine coconut chocolate dipped macaroons."
– Peter Gianotti, from Newsday
"Among the best."
– Cathy Hainer, from USA Today
"Erica's Rugelach is a rich, delectable old world sweet."
– "What's New", from Food & Wine
---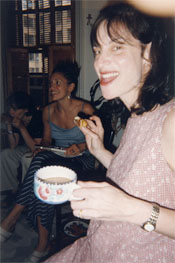 "My friend Wendy knew what was good to eat, always. A tough customer with a sharp wit & discerning palate, she would frequently call me up to rave about the juicy, specialty deli sandwich she was enjoying in the moment.
Here she is in bliss, enjoying an Erica's rugelach at her baby shower. Sadly, my dear friend has passed on, but her spirit lives on. Sometimes I have a dream and we are laughing together, eating something wonderful & listening to great music."
– Erica Kalick